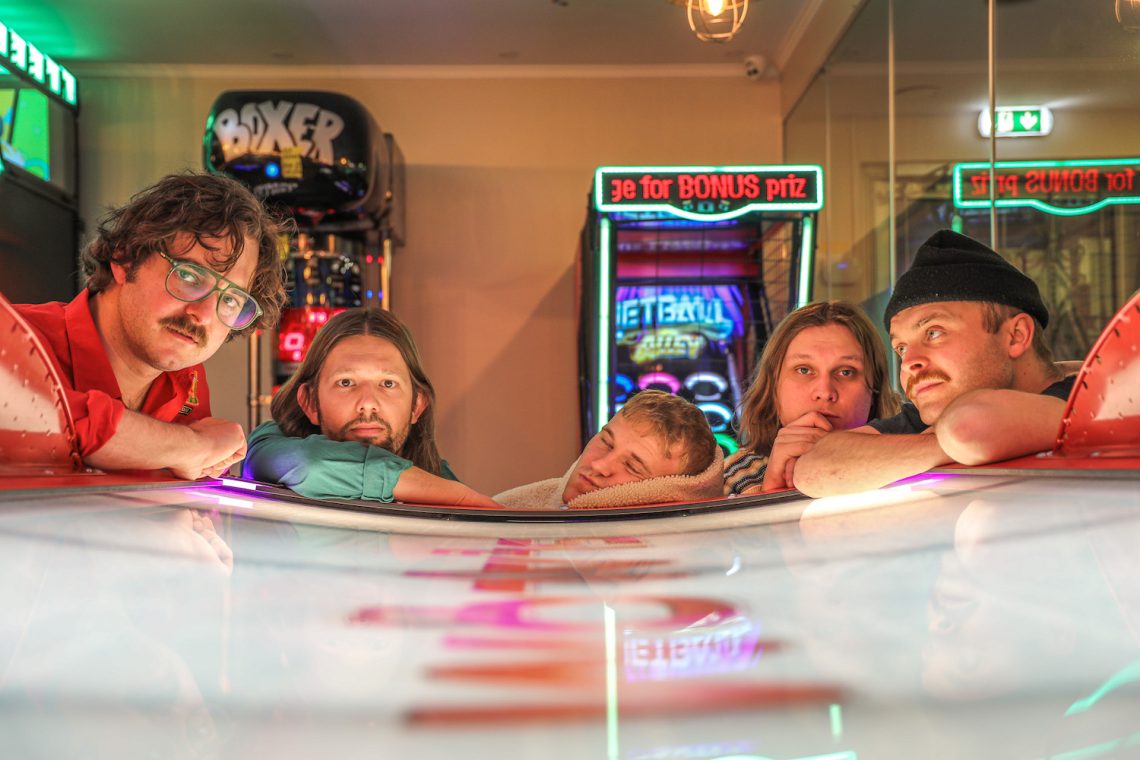 Expedition Nowhere: Two Year Vacation im Interview über ihr neues Album
Wie fühlt es sich eigentlich an, seine Gefühle und Emotionen mit unzähligen Zuhörer:innen zu teilen? Wo endet eine Expedition, die vermeintlich ins Nirgendwo führt? Und warum sollte man beim Songwriting öfter mal an die Worte von Tom Waits denken? Die Antworten darauf hat uns Jacob Ahlstrand, Frontman der Band Two Year Vacation, gegeben.
Nina: Your album "Expedition Nowhere" which came out in April is about going on a mission without knowing where you are going or what you are doing. And at the same time, being absolutely convinced of something, but not knowing what it is. Where did the idea for this overarching theme for the album come from?
Jacob: We started making the album without really knowing we're making an album, so we went into a studio in Sweden called "Silence Studios". It's in the Swedish forests in the middle of nowhere. It was built by an old hippie collective in the 70s, and we were there for a week just drinking beers and cooking food in the beautiful Swedish summer. And it felt like we had reached sort of an expedition nowhere. And that's where the entire vibe and everything came from. But for me, it's a little bit like the journey being the fun part and the goal not being so important. It's a cliché, but I like it. And that's also an expedition nowhere, I guess, because that means you never have to stop.
Two Year Vacation – Dopamine
Nina: Have you ever had a personal "expedition nowhere"?
Jacob: Yes. A lot of times when I didn't really know what I am doing or what I did, but somehow knew there's going to be an end to this. Whenever you have a plan for anything in life, it doesn't turn out like that. Like ever. Very rarely. Yeah, So whatever I set my sights on, it'll be something else. So the destination is a little more vague. I just enjoy the path.
Nina: You mentioned the "Silence Studios" studios earlier. By being in the middle of nowhere, built by a hippie community, the surrounding holds a very special spirit, I suppose. How did the surroundings influence the album in the end?
Jacob: Since everything started there, we laid down the foundations for pretty much a lot of the music that's on the album. The vibe of this place is just so nice. Since there is nothing around, nobody's phone would work. You have to take the car for 15 minutes to be able to send a text. It's very relieving. That definitely influenced the sound of the album. I love this place and I can't wait to go back. Also, a lot of Swedish legends have been there recording music. Yeah, so it's like it's in the walls.
Nina: This may not be very new to you, but your music is often described as indie pop with a unique blend of influences. You yourself call it tropical pop. That is kind of uncommon for a band from Sweden, where you're used to rather darker sounds or nowadays also a lot of techno. Why did you decide on going for the opposite?
Jacob: We've never tried to do anything. It is scary how authentic everything we do is. Because when we sit down to write music, we never really try to do anything. You know, we just sit down and do it and this is what happens. We're pretty happy people. And also it's more fun once you play the music live, and you realize the happiness in the audience. There's enough reasons to be sad. We don't have to contribute.
Nina: How important is humor in your music, and how do you strike a balance between lightheartedness and sincerity in your songwriting?
Jacob: As Tom Waits said: "I like beautiful melodies telling me horrible things". I like that a lot. It's really hard to write something that's just happy. Like, it gets pretty dumb pretty quickly. It's just it's not so much fun. I think it's fun to work with contrasts, like if you're super honest and hurtful in your lyrics, and you play a pop song over it. It's more fun, and it's a bit psycho like.
Nina: So, is it always things you experience yourself that you are writing about?
Jacob: In some way or the other, I don't think you can write without drawing upon experiences, and I couldn't make something completely up. But then again, it's 50/50, I think. Sometimes you have a thought, and you follow that thought, even though it's not something you experienced yourself.
Nina: How does it feel opening up about your own feelings and emotions to so many people?
Jacob: It's super strange, especially because just because you felt something two years ago does not mean that's what you feel at this moment right now. Also, one is constantly developing and thoughts are changing, so that can be a little bit strange. What's really strange and awesome at the same time is after shows when people come up and say lines from your songs to your face, and it's like I have to stand for this now, which is something I was not ready for.
ARMA-GET-IT-ON (Live at Clouds Hill)
Nina: Your band also has a distinct visual aesthetic in your album artwork and music videos. How important is visual storytelling to your music, and how do you approach the visual elements of your artistic expression?
Jacob: This is something that we always found super, super hard to do. Like anything visual, really. And we always try to find good people to work with when it comes to this. And this one might sound strange, but actually there's not that much thought that goes into it. Like, it's whatever feels right. And we find somebody who has a good vibe and a cool vision. We always encourage that person to implement their vision.
Nina: How did you find the artist for your latest album cover?
Jacob: For Expedition Nowhere, we were very modern. We found the artist on Instagram. This guy actually had some of the work already done, and we're like, yeah, we want that. Can we buy that? And we bought it.
Nina: Gothenburg has a very vibrant music scene. Do you think it makes it easier for bands to get recognition because it's easier getting a foot in the door? Or is it harder because there's more competition?
Jacob: I think having a competitive mindset is not good. If there are great bands doing great things, more people care about it. I learned to be happy for other people. Like, in the greater scheme of things, it's just more good music in the world.
Nina: Sweden is also kind of the epicenter of indie bands, especially from the early 2000s. With more and more music genres coming up and the overall taste changing – are you still into the good old indie?
Jacob: Yeah, I listen to everything and anything that's good. I'm very, very, very open.
Nina: And do you have any recommendations? Good ones, good music, or like music that influenced you as a band.
Jacob: I guess anything that you listen to influences you. But it wouldn't really matter if I wrote the techno song and I brought it to the band, it'll turn out to be a Two Year Vacation song. Like it goes through a filter. I really like that.
Foto: Maja Gallstad