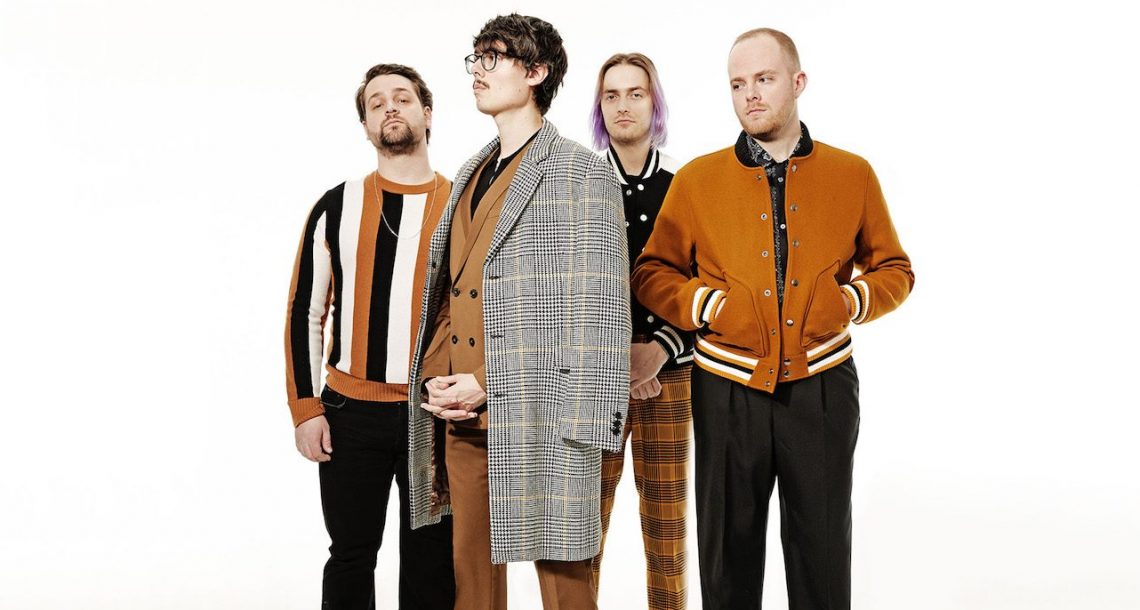 Joywave im Interview über tödliche Viren, Aliens und das neue Album "Possession"
Joywave sind bekannt für ihren zeitgenössischen Sound zwischen Indie und Electro, den sie mit tiefgründigen und gesellschaftskritischen Themen kombinieren. Nicht ohne Grund werden die Amerikaner oft als Indie-Neudenker bezeichnet. Auf ihrem neuen Album "Possession", das am 13. März erscheint, setzen sie sich vor allem mit dem Kontrollverlust auseinander, den wir Menschen in den heutigen Zeiten oft erleben. Wir haben mit Sänger Daniel Armbruster vor seiner Show im Lido über tödliche Viren, Aliens und das neue Album "Possession" gesprochen.
Right now you're touring with PVRIS. How's everything going?
Daniel: Good but scary. We're one step ahead of a mutant virus the entire way but so far everyone is still healthy. Although, every morning when we go down to the hotel lobby, the only word I can recognize in the news is corona and the other word is "uno" or "un" or something that I'm pretty sure it's one and then I'm like "Oh no, it's here!"
Maybe it means that there's  just one person that was diagnosed?
Daniel: That's what I think but it's still scary to wake up to, you know. I want to go home. I'm going home tomorrow and apparently there's no outbreak yet. So we had a pretty good run.
Well, fingers crossed you won't catch the virus! Anyways, you're going to release your third album "Possession" soon. Do you feel it's different compared to your previous albums?

Daniel: Yes, I think it has a lot of the pop sensibilities of the first record but the lyrical depth of the second. I think it's a best of both worlds of what we've done so far.
Joywave – Obsession
Where there any important topics for you now that you didn't really think of before?
Daniel: Yes, oh my god. The entire theme of this record is the idea of zooming out. Everything in our lives is breaking news, everything is so extreme all the time. This record is put together with samples from the NASA space probe "Voyager" which was launched in the 1970s. And on the front of the Voyager there's this golden record with all these sounds the earth meant to show the aliens but now it's about fourteen billion miles away from the earth. I wanted to have this kind of perspective from being that far away from the problems and the craziness of life and wanting to be able to just take things in stride and not stress out.
The title of your record hints at both control and the loss of control which we experience more frequently today. In what aspects do you think we have less control over our lives today than previous generations had?
Daniel: I would say it's comparable to how crazy things got in the 1960s. I mean, I wasn't alive but from my understanding people were hiding under their desks in school from nuclear weapons. It's like that constantly, every single day. Like the virus thing we're dealing with right now. In the U.S., last year North Korea was threatening to send nuclear weapons. There's always something making you feel like the world is ending and everybody has anxiety at this point.
That's true. You already mentioned the "Golden Voyager Records", which might inform aliens about our existence. What do you think, they would copy from human beings and what definitely not?
Daniel: They would definitely copy Joywave. But I think there are lot of things they shouldn't copy from us for sure. We have a lot of fear of the unknown and things we don't understand. I think that's kind of the root of all the evil in the world.
You're using a lot of elements of different genres and I would say that it's the variety of musical influences that characterize your sound. What do you think of this categorisation of your music? 
Daniel: I feel like that's going away. In the U.S. that's definitely a thing. Our radios are really segmented but now these lines are getting really blurry. Now the rock stations will play Post Malone. I think it's good that it's going away. Everything is just a Spotify Playlist at this point. There's music you like and music you don't like and that's how it should be.
Joywave – Blank Slate
Would you put yourself into a certain genre or do you like to keep it pretty open?
Daniel: I keep it open. I mean, I obviously do what I like so I don't think there will be a Reggae Joywave song anytime soon but I don't know, I could discover that side of myself in the future.
Are there differences in your private musical taste? Which music do you prefer when you're alone?
Daniel: I don't really listen to a ton of music to be honest when I'm by myself. Occasionally I put on a record but I don't know. I like some Hip Hop stuff and I try to listen to "OK Computer" by Radiohead one time a year. But only one time because it's really, really, really good and I like to keep it special.
Why aren't you listening to music?
Daniel: It's a great question. Because I hate it. I prefer to spend time with podcasts and things that stimulate my brain that way because I spend most of my time creating music. When I consume music or hear it, I start obsessing about it. I start analyzing it and start seeing it like the Matrix as a series of ones and zeros. I can't think about anything else when music is happening and I need to be deliberate about it or remove myself from it. If music was playing right now, I would not be talking to you. I would be focused on the background music and thinking about how I like it and why I like it or how I hate it.
So you always have to pay attention when music is playing?

Daniel: Yes, I worked in a retail job for many years. I worked at a Staples store and it was terrible. But the music overhead would constantly taunt me and I found my least favourite song is "Higher Love" by Steve Winwood. I hate it. I would be loading printers off the shipping things and putting them out on shelves and that song would be playing with this stupid trumpet line. And everytime I hear it, it reminds me of that.
Joywave – Half Your Age
Let's go back to your music. In your music video of "Half Your Age" the protagonist transforms into a super human by taking a special pill. What inspired you to this idea?
Daniel: There are a lot of very funny pharmaceutical ads in the United States that are meant to be taken seriously. So, we thought, the chorus of the song has that line "Brush it all, brush it all, brush it all, brush it away". And we were kinda like: "What if we took this song and make the worst advertisement with a misinterpretation of the lyrics to this song?" There was this ad in the United States that had this song "You're unbelievable" but it was "They're crumbelievable" for a product called "Crumbles" and it was a salad topper. I alway thought that that was awful. We wanted to create something that was just as bad, so we went pharmaceutical.
Let's be honest, would you take this pill if it existed?
Daniel: I would take one of them or maybe two but not the whole bottle.
Now, what are your plans for the rest of the year after finishing the tour with PVRIS and the release of "Possession"? Will you come back to Germany?
Daniel: If I'm invited, yes I will!  We have a full U.S. tour planned in april and may. Probably just touring the rest of the year.
Foto: Mary Ellen Matthews